We do our best work when a client has a clear goal in mind and is keen to find the path of least resistance to achieve it.
If you Google quotes about ambition you'll find any number that will inspire you and celebrate a degree of risk-taking, often making you feel that you're not doing enough. They are great motivators, and we often need that.
But there's also a pragmatic view that has helped people succeed just as much. That ambition is rooted in more considered and strategic choices.
Let me tie the two together with this quote by Antoine de Saint-Exupéry, a French writer, poet, journalist and aviator:
"A goal without a plan is just a wish."
As someone who flew airmail routes around the world and flew reconnaissance missions during World War II, I am inclined to believe him.
Here's what we think at Mindspun: clients come to us with a goal, and we get back to them with a solid plan to make it happen.
What should SMBs expect from WordPress development agencies?
Let me start with the fundamentals which ensure that a relationship remains productive and healthy.
Honesty – starting with agencies setting expectations as to what can be achieved given the budget, timing and resources.
Open communication – clients should never be left wondering where things stand. Ever. On the flip side, they should provide feedback promptly.
Trust – This one's primarily for clients: reputable WordPress development agencies know what they are doing.
On that last point – if you hire contractors to build an extension to a house you're not going to tell them how to build a wall, pass wiring, or how to connect up the plumbing, right?
So, how can you be sure that a WordPress website development company will meet these expectations if you've not worked with them before? Simple – do your due diligence.
Ask for references and talk to their previous customers. Check any reviews their clients may have left (trying to get a sense of how genuine they are).
Ask them what their development process looks like and how frequently they provide work-in-progress updates (WIP).
Get them to take you through a past project and explain how they were able to successfully respond to a brief.
Another good measure is the quality of their testing. Is it structured and disciplined? Who does the testing – the same dev that is building the website or a separate resource?
Finally, ask if they offer any kind of warranty on the work they perform. For example, a 30-day period after a product is signed off and what happens thereafter.
That's a fair bit of work to do before a project actually starts, but it's a worthwhile investment of your time – you'll know soon enough if the agency you want to engage is a right fit.
Now, let's look at the deliverables – the development services you need to get going.
What WordPress development services can help you scale?
The answer is not as obvious as you think. There's a big difference between building a website and building a website that can drive growth and scale as it does.
The context here are WordPress development solutions that interact with both growth functions and delivery: marketing and sales that get you customers and the products and services you need to fulfil. Making sure that the website doesn't fall over as traffic grows.
Thinking about the development process, here is a list of services you should be looking for:
Strategy & planning
The proposed solution needs to achieve tangible commercial goals. A plan needs to be realistic and, ideally, both quick deliver quick wins and results that compound in the long term. All this needs to be captured and addressed in a Website Requirements Document.
Scalable infrastructure & DevOps
Not just web hosting, but ensuring that the full stack – the application (WordPress) and other integrated services – performs at scale. Consider using a caching and CDN too, for consistent performance when you have a global audience.
An example: here's what a simple business website's stack looks like, with WordPress at the center of the model and a couple of mission-critical functions: capturing leads into CRM and an integration with an email marketing platform for running campaigns.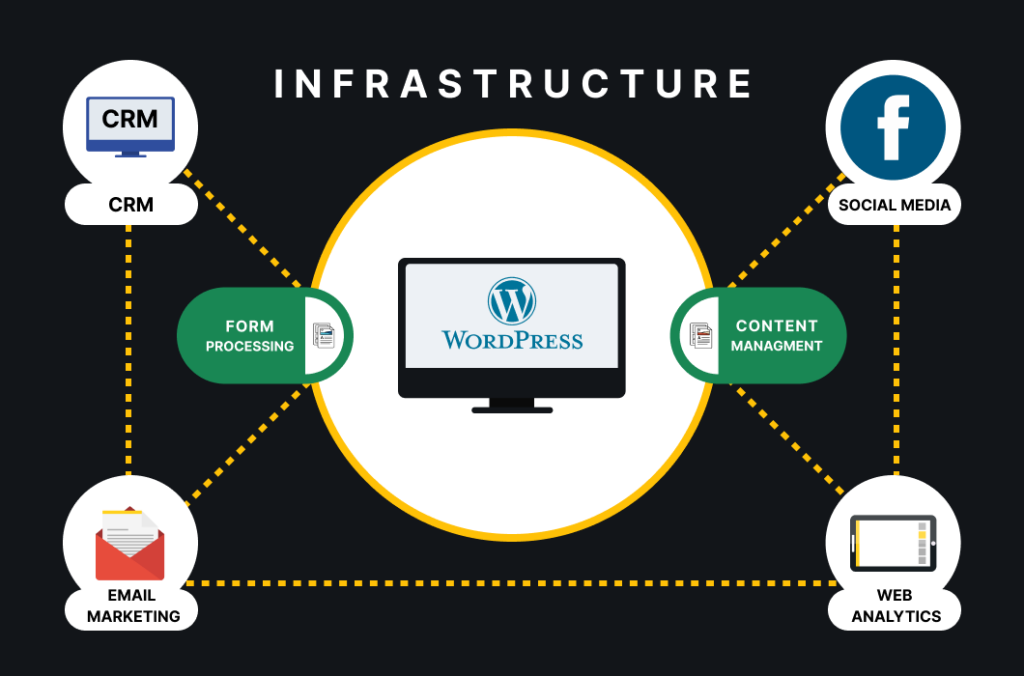 Infrastructure is a critical piece of the puzzle as it needs to support growing traffic and the increasing demands of the functions powered by WordPress. Connections between functions need to be robust too and an important part of planning is having Plan Bs when something goes wrong. Consider WordPress cloud hosting if you anticipate needing scalable resources.
Inevitably, the tech stack will grow and with it complexity. DevOps ensures maximum uptime and performance.
Custom WordPress development services
When an existing plugin isn't quite fit for purpose you'll need to build your own. The good news is that WordPress is a great framework for this. The key is to follow best practices, starting from WordPress' own coding standards.
User experience design
UX is not just about designing pretty interfaces but making sure that they work: users visit your website to complete tasks – make sure they can do so as quickly and as painlessly as possible.
WordPress security & compliance
You can't just get away with installing a security plugin. WordPress security is multi-layered and an ongoing exercise, starting with identifying risks and making sure you're mitigating risks as much as possible.
What regulations do you need to comply with? What's your legal exposure when you don't?
Testing & QA
What's the impact on your business if the website goes down? What if integrations between your lead capture forms and CRM fail? Testing is critical to any development process, and as mentioned before, it needs to be structured and disciplined.
Ongoing maintenance & support
Unless you have your own team of developers, you'll need help on an ongoing basis. WordPress is powerful and flexible, but its software, and software need to be maintained.
Find a trusted development partner that can look after the technicalities so that you can focus on growing your business.
How we support ambitious SMBs
Much of what I have written so far reflects our approach, and we like to think that we're not just another custom WordPress development company. We've taken learnings in Enterprise and packaged them for SMBs.
Let me explain what this means:
We treat every project as a business-critical function, whether it's selling products, winning business or brand-building
We plan for change down the road
Project and risk management are baked into the process, even if it's a two-hour job
We follow WordPress development best practices religiously
We always kick off with Discovery
We test, test and test
While this might be the modus operandi of an IT department of a billion-dollar company we're just like you – an ambitious SMB with a clear goal in mind.